Archive for August, 2013
by Dr. Scat on Aug.13, 2013, under Gigs

HERE WE ARE AGAIN AT THE COPENHAGEN JAZZ FESTIVAL
This is my 17th year at the festival. The weather is beautiful. Copenhagen is beautiful. Caring friends surround me. I just got a paying gig (performance) for Tuesday night with an old and dear friend and guitarist named Tao (pronounced tayo) Hoejgaard. He and I played my first paid performance in Copenhagen seventeen years ago. Even the bass player, Kristor, was there. Here is a poem that captures the feeling of being at the festival:
COPENHAGEN LIGHT
Air is water, water air
The thick glistening streets
Fly up with tenor saxophones
Reaching for the dreamsound
The one that grabs the heart's strings
And tugs you to the bliss
Of divine attention
When it's right, fluid and alive
You stand up on the edge of your hair
For a bright moment, illuminated
Lightened up, enlightened, ensighted
Possessed of powers a thousand engines strong
And you are inside your benediction
Swinging in timeless space
Jazz language groans and sweats
Flights of pansy bright yellow wings
Danish minds tickled until laughter erupts
Knowing smiles that breach the serious within
Clapping in 4/4 delight, audience turning gold
Knowing that without their ears the music is lost
This is the listening we are singing into
Mark Weiss, Ph.D.
Copenhagen
July 8, 2003
Friday, July 5, 2013.
Lisbeth and her son Lucas gave me the tour of the southern portion of Copenhagen …lovely, rich green countryside and farmland with a few castles that dot the area.
Lisbeth and Tina and I went to see the Mike Stern, Victor Wooten band. It was like eating the best New York cheesecake. Every sound was rich and filling. They went from the wildest improvisation to the most sublime, sweet heart-touching music and then to light and playful. This was the second time I had seen supreme bass virtuoso Victor Wooten in the last two months. He never ceases to amaze me. I love being in the presence of a musician who is playing at such a high level of musicianship that it literally seems impossible. Guitarist Mike Stern has been around for thirty years. He played with Blood, Sweat and Tears, Miles Davis and many others. The band featured Bob Franceschini on tenor sax and Derico Watson on drums.
Saturday, July 6, 2013 A relaxing day out in the country at Lisbeth's house. This evening we went into Copenhagen to meet Tina for dinner and to hear Christina Dahl (sax), Marilyn Mazur (percussion) and Band Ane (computer synthesized music). It was a bad trip. Lisbeth thinks it was excessive female hormones, Tina hated the computer and I barely found it tolerable and I'm a tolerant guy. Lisbeth says the bar had a nice ginger ale…ah well. Jazz at its best is experimental and at its most difficult it's experimental. Christina and Marilyn together make beautiful music. The impression I had was that the synthesized music had difficulty integrating into the rest of the music. The integration is still immature.
Sunday July 7, 2013
It's a fabulous, mild, sunny day at Kongens Have (king's garden). Two thousand people are hanging out in the park listening to the A-Team, the cream of the crop of mainstream jazz musicians led by Niels Jorgen Steen. Lot's of great Basie and Neil Hefti. Arrangements. The singer, Bobo Moreno has a great handle on Sinatra-style phrasing and the solos were smooth and swinging.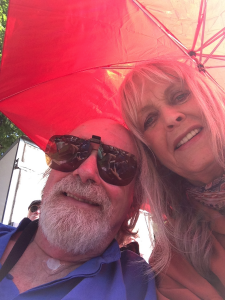 My old friend Johnny Nordentoft joined Tina, Lisbeth and me.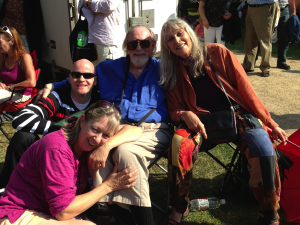 His wife Elena is a singer and is touring in the Balkans.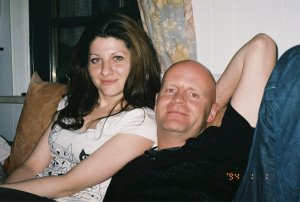 Johnny and his wife Elena
My then fiancé Sherry and I had stayed at his apartment ten festivals ago and he and his friend Mette-marie had visited me in Memphis around that time. After the concert, we went to an organic restaurant for dinner and then to a fantastic concert of blues performed by Poul Banks (guitar and vocals), Hugo Rasmussen (bass), Martin Anderson (violin) and Jorgen Lang (vocals and harmonica). These guys have been playing together for over 30 years and they are really tight.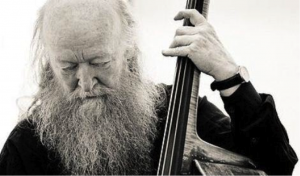 HUGO RASMUSSEN
Blend some southern blues, some upcountry blues, a little country and a great mixture of sincere poignancy and humor. I found myself laughing out loud at their subtle musical humor. These guys have lived life deeply and convey it in their tone and the way they communicate with one another and the audience. We left fulfilled.
I am getting very excited. I will be performing six times with great musicians during the festival.
Later that night…I nailed it!!!
I sang 'Joy Spring' tonight with the Monday night big band and 'I killed'it. These musicians are the cream of the crop. I have become a tradition with this talented band.
I love it. Lisbeth's friend Annette met us at the concert. She teaches Danish to adult students coming to live or work in Denmark.

Tomorrow night I have a full gig with my friend and excellent guitarist Tao Hoejgaard. Seventeen years ago we did our first gig together. In those days his hair was extremely short and on the top of his head was tattooed: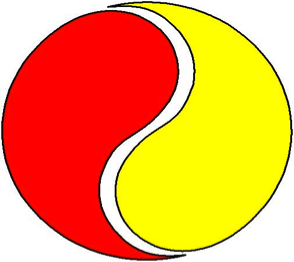 Lisbeth, Tina and I went to the Carlsberg concert area to hear a tribute to Art Blakey, one of the founders of the jazz known as bebop. Almost every great horn player and piano player that became famous in New York played in Blakey's band, The Jazz Messengers. The band at Carlsberg was led by Krestin Osgood, a wonderful drummer who has played with some of the world's greatest musicians, the concert was comprised of many obscure recordings of the Art Blakey band, many of them very difficult. We ate from their tasty smorgasbord, sat in the sun and relaxed to the music. One particular tune, 'contemplation' written by Wayne Shorter was exquisitely melodic and peaceful.
Tuesday evening: club Bo-Bi…pronounced booby. I thought my friends would think I was pole dancing. It was a full evening of jazz with Tao Hoejgaard on guitar
Kristor and Tao and me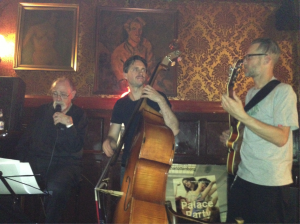 and Kristor Brodgaard on bass.

Over the last seventeen years, I have sung on the
same stage with them. It was a small intimate club with a very attentive audience. Before the gig, I had sent Tao a list of tunes that we could do together. Tao seemed reluctant about some of the
tunes (old jazz standards). I took it to mean that he probably thought I was an old fogey and he wanted to play more avant-garde tunes. Toward the end of the gig he revealed that in such small quarters, he didn't want to have to read the music. So I'm not a musical dinosaur. Hooray!
Wednesday July 10, 2013
We have been calling today 'nette' day because Lisbeth and I are going to have dinner with an old friend who is leaving for Spain tomorrow.
Later that night: dinner with nette was fun at a restaurant with a 'jump' band (one that plays lots of upbeat swing and blues tunes. Nette is an old Copenhagen friend who is smart and gentle with a very clear energy.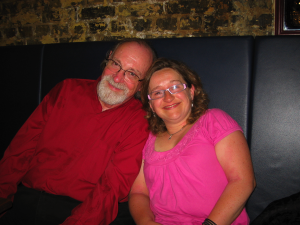 Nette and me
After dinner we went to the 'blue dog', a spacious and well-appointed jazz club to hear a wonderful jazz singer named Katrine Madsen. All I can say is 'wowie zowie.' I have seen her a couple of times earlier but never in such fine form. The place was packed and Katrina had the room totally in her hands. Her voice was serene. She showed an incredible range and a knack for the playful. The three of us fell under her spell, as did everyone else.
Thursday, July 11, 2013
Today was a big day. Every year I attend the jazz brunch and jam session at the beautiful Kong Arthur hotel. The courtyard was packed with musicians who are honored by the event. Here's the scene: warm friendly people, blue sky, comfortable chairs, and the smell of genuine jambalaya and h'ordeuvres. Ahhhh, the clinking sound of bottles of wine and beer…all of it free and delicious. There is a great jazz quartet playing.

Mrs. Brochner and her mother, owners of the Kong Arthur hotel warmly welcomed me back.
On the way to the Kong Arthur, I was remembering that last year I was introduced to a wonderful couple, Ellen Bick Assmusen and Svend Assmusen. Sven played jazz violin all over the world and is very popular in Denmark. His wife is a talented and charming writer. As Lisbeth and I drove to the Kong Arthur it came into my mind that we would sit next to the Asmussens and, lo and behold, we arrived and there were empty seats next to the Asmusens and in front of the band. For the rest of the afternoon, in between performances, we engaged in the most uplifting
conversation imaginable. Ellen is a transplant from New York who fell in love with the Scandinavian landscape, language, and ultimately with Svend.


Svend and Ellen Asmussen
They are both discriminating lovers of jazz. Svend is ninety-seven (and a half). He had a stroke a few years ago but maintains a strong memory and his love for and knowledge of music is clearly a tonic for him and for Ellen. Her love for Svend is evident in every move she makes with him. Her message to Lisbeth and me was "it's never too late. Love has not abandoned you." She pulled out two copies of her book of poetry with some of Svend's written music. It is caled Scandinavian Solstice (publisher Lindhardt and Ringhof). I have only just begun to read it and am struck by the lean poetic lines, so much like the Danish landscape and the clarity and loving dedication Ellen and Svend have for each other. What a blessing to meet them and, as it were, to receive their blessing.
The place was crawling with outstanding musicians and singers. When I saw an opening, I sang 'Stella by Starlight,' and was enthusiastically received. This place is like home to me. After hours of great music, good food, inspiring conversation and a beautiful day in the sun, we took our leave.
At Lisbeth's suggestion, we drove back to Koge to a restaurant overlooking the sea with an outstanding seafood buffet, with lobster, oysters, tuna, mussels, etc. It was a two and a half hour feast. Stuffed, full of fabulous memories, food, music and inspirational fellowship, we slept like babies.
Friday, July 12, 2013
What a day! Tina, Lisbeth and I meet at Carlsberg to hear a tribute to Cannonball Adderly, one of the world's most prodigious and uplifting alto sax players. Years ago I saw him in Fresno, California, with Miles Davis and John Coltrane. It was one of the greatest and most innovative bands ever. The music they wrote and performed is still influential today. I was a little disappointed at this band's
instrumentation, the Jesper Lundgaard trio. I was expecting a larger group to capture cannonball's bigger sound. There were some old hits, in particular, Bobby Timmons' 'work song.' I couldn't help but sing along.
And now, imagine: Tina, Lisbeth and I are walking through Christiania, a free state in the middle of Copenhagen. Approximately forty years ago when the Danish navy was decommissioned, hippies and other free thinkers and stoned heads occupied the empty buildings. To this day Christiania is a community with benefits; that is, if you want to score some marijuana or hashish, or fresh bread, or jewelry or 1960's style clothes or nice food, this is the place to go.
It is almost 10pm and we are ascending the stairs at the Loppen (which means 'the flea') where I am performing. The room is dark, the bathroom is male/female and there is enough power in the speakers and amplifiers to level a small village.
I have been invited by my guitarist friend Tao to perform what he calls DJazz. It is a combination of dj, hip hop music, rap, jazz and a new addition…me doing spoken word. I was coming a long distance from a frankly snobbish, purist, be-bop jazz mindset, where you know your musical parameters and you push them as you get better. This time I have no idea where we are headed, nor does Tao. We know we are going to do it and we know whom the players are. Before we get started, my mind starts to race with clever inner repartee I shared some bright ideas with Tao and he put his hand comfortingly on my shoulder and said 'let it flow. We'll make room for you.' I relaxed immediately. Tao had his guitar running through a complex synthesizer that was part science fiction soundtrack and part rhythm box. The bass player, Kristor, had his own synthesized sound and dj scratch majic played a mix of synthesized sound and extremely sophisticated vinyl record manipulation.

My rules for the gig were for me not to sing or to talk about jazz…just spoken word. I laid back until the music settled in and then I started talking about the mother of rhythm being the heartbeat or our footsteps and from there I have no idea where I headed. But it was good.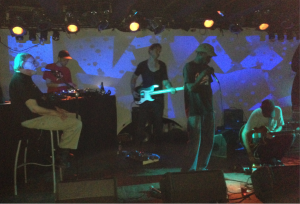 We got into a groove and stayed there. The more I relaxed, the more room there was for me. After the first tune (I don't really think 'tune' fits, but I had already run out of descriptive vocabulary) Tao introduced a young rapper named Agami who was startling, smart and creative. Tao encouraged us to have a spontaneous conversation while the band played 'space music'. I would have to watch the videotape to know what happened, but I do remember 'tell the truth, tell the truth…"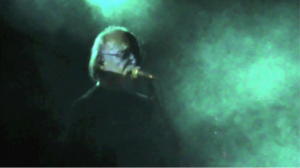 Sometime toward the end of the first set, the bass player kicked in at a volume level that felt like it was going to turn my ribs to jelly. I expected Tina and Lisbeth to be begging to get out of there and, instead, they were excited and wanted more.
Into the second set we flew. After some more space music, Tao asked me to perform an eco-blues I wrote based on a drone sound. What was usually a five- minute piece turned into at least twenty minutes with Tao doing some incredible improvising. At the end of the set I was really exhilarated. I had expanded my concept of jazz to include elements I never imagined I would. Lisbeth and Tina told me I was moving with the music as if I were dancing in space.
Saturday July 13, 2013
Another gorgeous day. Tina, Lisbeth and I arrived back at Carlsberg to hear a tribute to Oscar Pettiford, a well-known bop bass player who died in Copenhagen a number of years ago. Hugo Rasmussen led the band on bass. He knew Oscar Pettiford (back in the days of Thelonius Monk, Oscar was called O.P.).
In the second set, Hugo asked me to come on stage and perform 'Stella by Starlight.' I was feeling very powerful and my voice sounded like it. Toward the end of the tune, I motioned to Hugo for us to trade fours. (improvise alternating four bar passages, like a conversation). I sang a bass part and he played one. What great fun. The audience loved it.
Later that night, Lisbeth and I went back to hear more of Katrine Madsen. Pure inspiring luxury.
Sunday July 14, 2013
Ah! The last day of the festival. Also a day for packing and moving from Lisbeth's and her son Lucas' house to Tina's house. Everything moved smoothly. Lisbeth, Lucas. Tina and Lisbeth's friend Annette arrived at the scene of the closing concert of the festival. We were at Islands Brygge on the water, looking at the city.
The band was led by Hugo Rasmussen and the all Starz. We had a wonderful buffet and settled in for some great classic swing and be-bop. Hugo asked me onto the stage in the middle of the
Second set. I sang 'there'll never be another you.' and was accompanied by Hugo, Krestin Osgood, a world class drummer and Christina von Bulow, a great talented alto sax player. I had wanted to perform with Christina for years. After I took three choruses, she and a great tenor sax player named Jacob Dineson performed jazz solos simultaneously driving the audience wild. I was in heaven. After another tune, a young bass player from an island near Copenhagen performed with Hugo as a duet and they generated immense intensity. The band and the audience were thrilled. One touching moment occurred when the young bassist soloed and everyone on stage was transfixed,
listening with great care and nodding as his creativity shone through. The night was complete and I could not have been more fulfilled with this magnificent climax to a fabulous, creative, energized Copenhagen Jazz Festival. As Hugo said "same time next year."
ARCHITECTURE
Over the years I have been struck by the outstanding architecture in Copenhagen and on this trip, Malmo, Sweden. Tina and I took a day trip across the bridge to Malmo. We were struck by a building labeled 'The Turning Torso.' It is Fifty-five stories and houses businesses and apartment condominiums. We weren't able to take the tour, but just being close to it was pretty stunning.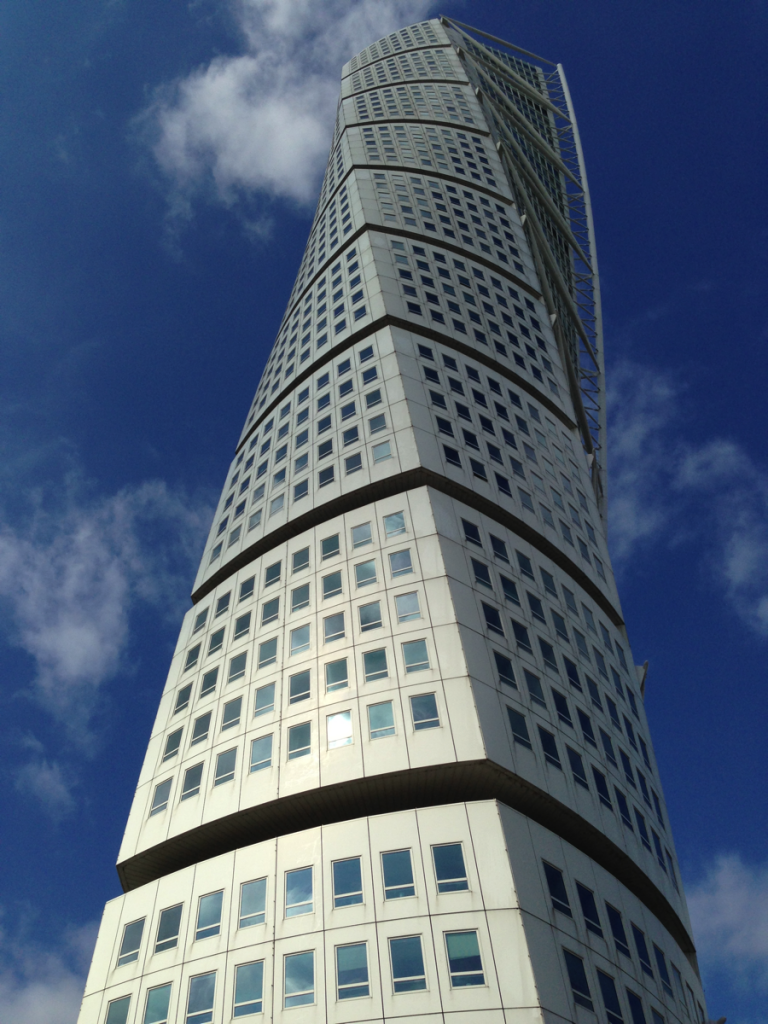 The Turning Torso…Malmo Sweden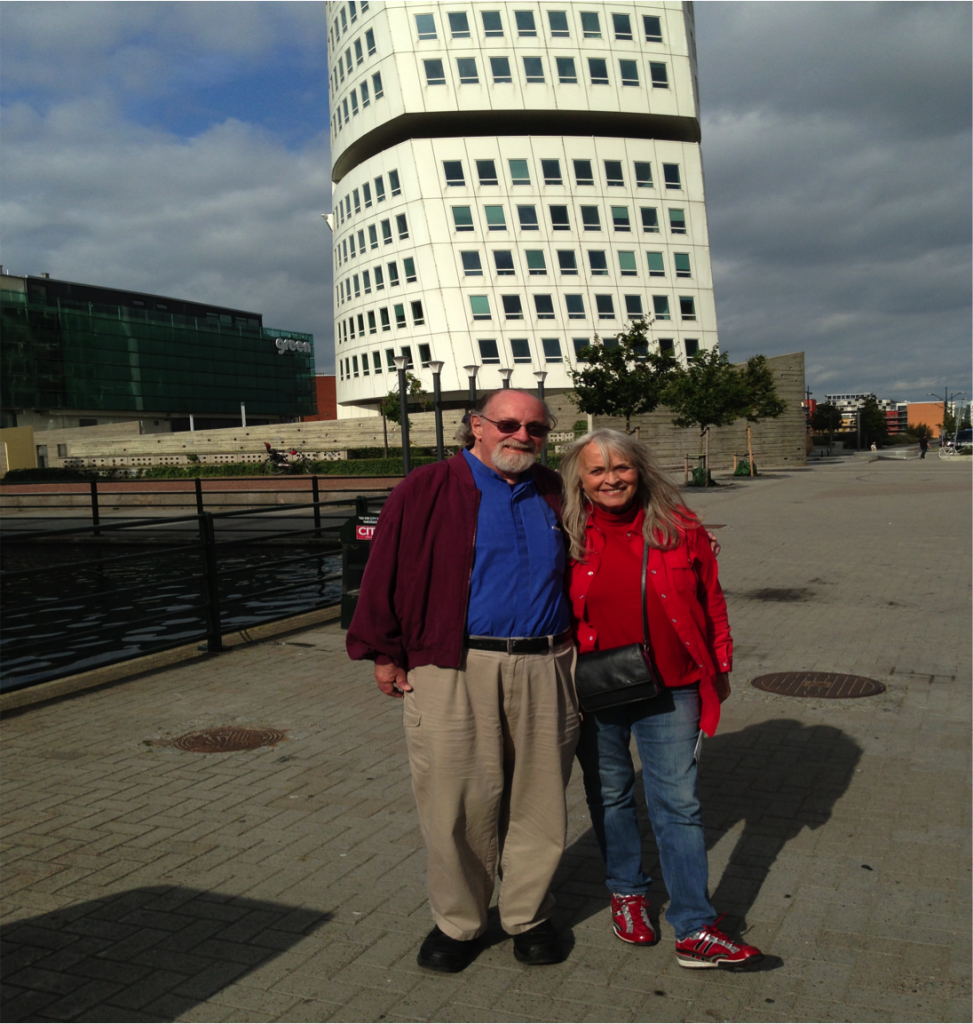 On the way back from Malmo we passed one of the most interesting hotels I have ever seen.

Another festival is over – looking forward to the next!
1 Comment
more...